Missing teeth create a unique challenge for dentists and patients in many regards. Dental implants allow for restoring the form, support, aesthetics, and function of missing teeth. We utilize the latest digital technology when custom planning your implant.
Before the development of dental implants, there were minimal alternatives to replacing a missing tooth or teeth. Implants are so well designed; they mimic the look and feel of natural teeth. Implants are pure titanium structures that are placed in the area of the tooth normally occupied by the root. Implants are anchored to the jawbone and act as a foundation for an artificial tooth, permanent bridge, partial denture, or complete denture.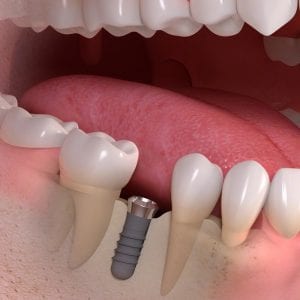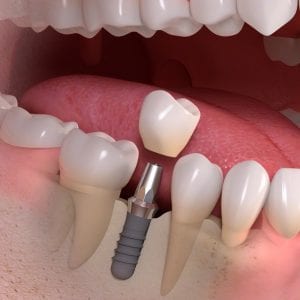 Am I a Good Candidate For Dental Implants?
Unfortunately, not everyone is a candidate for a dental implant. For a successful implant to take hold, a candidate must have proper bone density and have a strong immune system. In all cases, dental implants require strict oral hygiene. If you are wondering if you are a good candidate for dental implants in Parker and Cherry Creek, CO, be sure to schedule an appointment with us today.
What Can I Expect?
Surgery is necessary to prepare the area for an implant and place the implant in the mouth. Following the procedure, a period of time is required for the bone to fuse to the implant and anchor the device. In some cases, this may mean you will not have your final implant crown on the day of surgery. In most cases, a post is inserted into the implant during a follow-up procedure and a final crown is connected to the implant.
Because implants require surgery, patients are administered anesthesia and if necessary, antibiotics to stave off infection following the procedure.
Like any restoration, implants require diligent oral hygiene and proper care to ensure their longevity.